African Violet Plants need to be watered depending upon each plants individual environment. Depending upon whether African Violets are in a hot, dry, comfortable or cold environment, the frequency and amount of water changes.
Below are common questions answered about watering African Violet plants and hopefully you will be able to pick up some useful TIPS for growing African Violet plants.
How to tell if your African Violet plants need watering?
Visually if the middle leaves of the plant look droopy, dull or limp it may be time to water the African Violet. If the leaves are firm, crisp and shiny then they have enough water in them.
If the droopy leaves are combined with dry top soil, then the African Violet needs to be watered.
To check for dry soil, stick your finger gently in the soil (1/2 inch deep). If a lot of soil sticks to your finger and feels damp, then no watering is required. However, if your finger is clean and only a few dry specks are attached to your finger, then its time to water the African Violet.
Remember to only water the soil when its dry, do not over-water. African Violets are very susceptible to over-watering, it can lead to root or crown rot as seen below.
Another way to check whether an African Violet plant needs to be watered, is to each time get a feel for the weight of the pot.
After you have just watered, lift the pot up and feel how heavy it is.
After a week again lift the pot, if its slightly lighter, then the soil is halfway dry and still moist.
After a few more days, lift the pot, if it feels really light in weight then before, that means the soil is barely moist and dry.
Its time to water this African Violet.
After a few times, of feeling the weight of the pot, you will easily be able to judge whether your plant needs to be watered or not.
How to water African Violet plants from the top?
For top-watering African Violets, you can use a watering can with a long skinny spout, or a small cup or a turkey baster.
Fill the can, cup or baster with tepid, room-temperature water.
Carefully water only the soil from the top. If needed, can gently push a few leaves to the side and water the visible soil through the space.
Remember to never splash water on the leaves, crown, stems or flowers. Only water the soil.
Also, never use cold or hot water, only room temperature water.
Once you have watered your African Violet from the top, wait a few minutes, till the water comes out of the bottom of the pot.
Discard the extra water from your tray/saucer or base and put your newly watered African Violet plant in its original location.
How to water African Violet plants from the bottom?
For bottom watering African Violet plants, first fill up a tray, bowl or saucer with room temperature water.
Place your African Violet plant in the water filled tray, bowl or saucer. Make sure at least one inch of the bottom of the pot is immersed in water or submerged in water.
Wait for 20 minutes, allow the plant to absorb the water and the top soil to become moist.
After 20 minutes, discard the leftover water in the tray, bowl or saucer.
If there is no water left and the plant has absorbed all of the water in the tray, bowl or saucer then you can add more water and allow the plant to sit for another 10 minutes.
After 10 minutes, again discard the extra water sitting in the tray, bowl or saucer and place the African Violet plant in its original location.
Another technique for bottom watering is to place your African Violet plants on a tray of pebbles filled with water.
Make sure to add enough water to cover the pebbles.
Once, the water starts to dry out and the water level becomes low, add more water to the tray of pebbles.
This method can also increase humidity around the African Violet plants, which they enjoy.
This method is more suitable if you have a limited collection of African Violets.
An important point to remember when bottom watering African Violet plants is to top water at least once a month. This way you are flushing out any extra fertilizer salt build up and refreshing the soil/roots from the top too.
Watering African Violet plants using Self-Watering pots:
If you have a small African Violet collection, then self-watering pots can be a fuss-free option for watering.
Since they take up a lot of space, its best used if you have a few African Violet plants.
Self watering pots, consist of two containers/baskets. There is an inner basket/container which holds your plant and the outer basket/container which holds the water.
The inner container which holds the plant, is usually porous in material and will absorb the water from the outer container.
Sometimes, the inner container will have openings at the bottom or a cotton wick at the bottom, which makes absorbing water from the outer container easier.
With a self-watering system, water usually needs to be added every 5-7 days. A water level indicator or marking will be present on the outer container.
When using self-watering containers, remember to add a layer of perlite at the bottom of the inner container. Then place your African Violet plant with regular potting mix above the perlite layer. This will ensure adequate water drainage from the soil.
How to water African Violet plants using individual containers and wicks?
What kind of water to use for African Violet plant watering?
Always remember to use room temperature or tepid water.
I use tap water to water my African Violet plants
If you notice your older outer leaves dying with spotting, black edges or discoloration you may have chemicals in your water from municipal water suppliers causing these symptoms.
In some municipalities, they add the chemical chloramine to the water as a purification agent.
Chloramine damages the African Violet plant and if left untreated, the plants can die.
The best way to know if Chloramine is present in your water is to request your water supplier to send you the composition of your water.
Some municipalities have this transparent information on there website, the water source and composition reports are updated yearly.
If you do have Chloramine in the water, then you will need to use another source of water. Either spring water from the grocery store or rain water. Do not use distilled water, as they lack certain minerals necessary for healthy African Violet plant growth.
Once, African Violet plants have been damaged due to Chloramine, they can revert back to its healthy self once the water source is changed.
Please note, that your home filtration system, cannot remove Chloramine.
If you have Chlorine in your water, that is different then Chloramine, they are not the same.
To remove Chlorine, let your water sit overnight in an open container and then use. This will allow the chlorine to evaporate overnight. Even if all the chlorine does not evaporate, it will certainly reduce the amount of remnant chlorine in the water.
Rain water can also be used to water African Violets. However, if you live in a city with low air quality, high air borne environmental toxins and high pollution, then its not advisable to use rain water. As there as high chances of this water being polluted.
What kind of soil to use for optimum watering of African Violets?
An African Violet soil mix which is too dense, retains water in the pot for longer periods of time which can result in root rot.
A more lighter African Violet soil mix, can allow the water to flow/drain through the pot easily and prevent packed dense soggy soil.
African Violet soil mix should be porous and provide adequate drainage. This can be achieved with the addition of a layer of perlite at the bottom of the pot and also perlite mixed in with the potting soil.
When potting up the African Violet plant, remember to keep the soil loose and gently add soil to the pot. Do not push down the soil too much in the pot, this will make the soil mix heavy and dense.
African Violet plants like loose and light soil, making it easier to water. They do not like soil which has been pressed down tightly in the pot. This encourages water to collect in the dense soil and become heavy.
For more information on African Violet potting mix, please visit our post, "African Violet Soil/Potting Mix".
What are the symptoms of over-watering African Violet plants?
Only water African Violet plants when they need to be watered. As a rule of thumb, its better to under water an African Violet, then to over-water.
Over-watering African Violets, can lead to soggy soil, which can in turn lead to root rot (the roots absorb so much water, that they can no longer hold onto so much water and eventually rot).
Following root rot, the crown will start to rot and the African Violet plant will eventually die.
If the soil is soggy and wet, accompanied with browning/yellowing and limp leaves, then you have over-watered the your African Violet plant.
Immediately take action, remove the yellowing leaves and gently remove plant from pot.
Gently remove the old soil, not too much soil, as the African Violet plant likes to be root bound.
Try to gently remove any roots that are rotting or mushy, brown in color.
Then re-pot the plant in fresh dry soil.
Do not water for at least a week, and then slowly start your watering schedule.
If your African Violet plant does not recover, then root rot may have already occurred and the plant will be dead within a week.
At this point, put down leaves to save the plant variety and to produce baby plantlets. For more information on leaf propagation, visit blog post, "African Violet Leaf Propagation".
What are the symptoms of under-watering African Violet plants?
If the soil of the African Violet plant seems dry and crisp on the surface and the sides of the soil are pulling away from the pot, then its time to water the plant.
If the leaves lack luster and shine and start drooping along with dry soil, then its to water the plant.
When you lift the pot and its really light in weight along with the above visual signs, then its time to water your African Violet plant.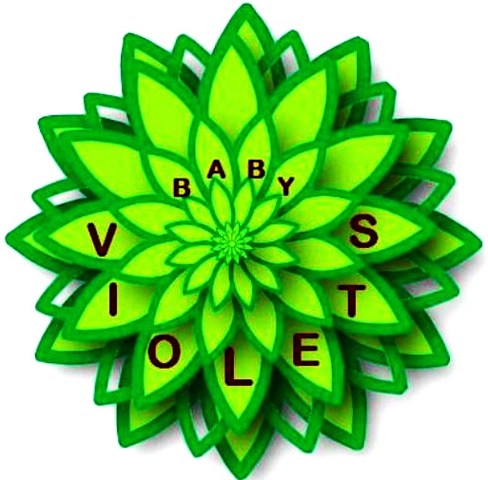 *Our Affiliate Programs: We are a participant in the Amazon Services LLC Associates Program, an affiliate advertising program designed to provide a means for us to earn fees by linking to Amazon.com and affiliated sites.
Though we do link to many items on Amazon out of convenience to our readers, we do also participate in other affiliate programs that also pay us a commission for any purchases you might make through our links (at no additional cost to you!).